Lymph Assist - 100% Natural Lymphatic Support Supplement For Horses
LYMPHATIC SUPPORT SUPPLEMENT FOR HORSES
📦  Free 2 day shipping on all orders. Money Back Guarantee.
Does your horse need specific lymphatic support? Do you want give your horses lymphatic system TLC so it stays in top condition? 
Giving your horse Lymph Assist, our 100% natural seven herb blend for the lymphatic system, nourishes the horse's immune system and general health. 
Lymph Assist works by providing support to the immune system, the lymphatic system and the circulatory systems. By taking a three-pronged approach to all of the parts of the body involved in lymphatic health, the lymph system is maintained and supported for optimal health and functioning. 
From as little as £0.89 per day with Subscribe & Save on 1.5kg box
Ingredients: Echinacea, Astragalus, Nettle, Fenugreek, Rosehips, Ginger, Yarrow
 ❗️SCOOPS❗️
This product comes with a cardboard scoop enclosed. For a hardier, long-term scoop, you can purchase a plastic scoop here. 
Regular price

Sale price

£24.99

Unit price

per
Shipping

We're proud to offer free UK wide shipping on all orders.

Order before 1pm for same day dispatch.

All shipping is on a tracked, 2-day service.

Returns accepted on all unopened product within 7 days of receipt.
Share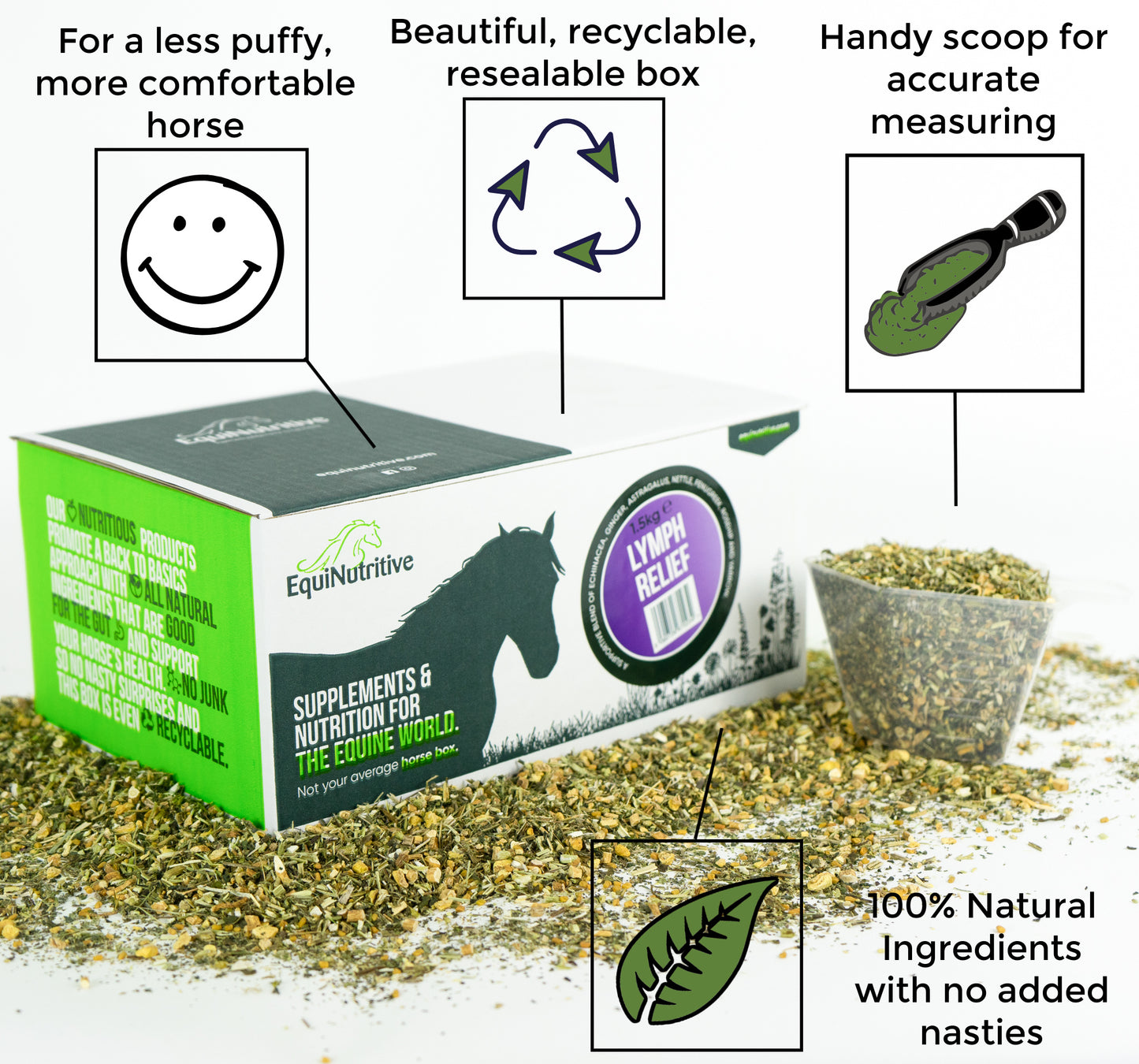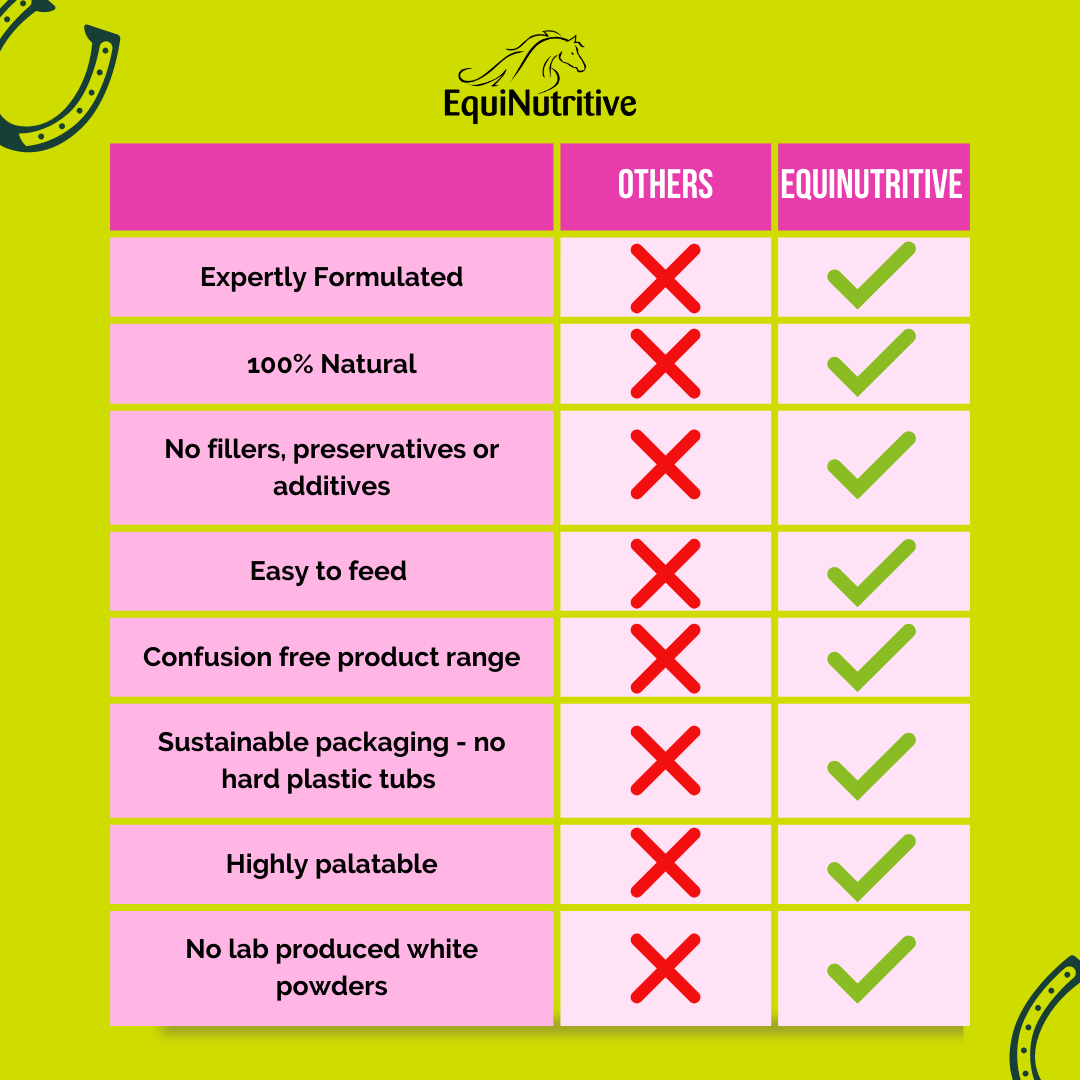 Lymph Assist - 100% Natural Lymphatic Support Supplement For Horses
Regular price

Sale price

£24.99

Unit price

per
Natural Lymphatic Support
Backed by Science
Zero Nasties
Feeding Instructions
Instructions for use: just sprinkle on top of your horse's feed daily. Every box comes with it's own handy measuring scoop for the perfect amount every time. Daily feeding rates - pony 15-30g per day, horse is 30-50g per day. A starter pack lasts 3 weeks for a horse and 6 weeks for a pony. 1.5 KG box lasts one horse 50 days and one pony 100 days at maintenance feeding rate. Lymph Assist is not suitable for a mare in foal. Lymph Assist is suitable to be fed to horses with or prone to laminitis, cushings, EMS and ulcers.
Ingredients
Lymph Assist contains 7 dried herbs, expertly combined to support healthy lymphatic and circulatory health. The ingredients in Lymph Assist are: Echinacea, Astragalus, Nettle, Fenugreek, Rosehips, Ginger and Yarrow. That's it! No fillers, no nasties, just 100% pure herbal goodness.
WHY BUY LYMPH ASSIST?
KEEPING YOUR HORSE MOBILE
The more mobile your horse is the better condition their legs will stay in. Lymph assist supports lymphatic and circulatory health.
LONG TERM LEG SUPPORT
Lymph Assist maintains the health of the immune system for ongoing lymphatic health and well-being of the legs.
see a difference quickly
When feeding Lymph Assist you'll start to see a difference within 1-2 weeks.
FREQUENTLY ASKED QUESTIONS
Lymph Assist has seven dried herbs: Echinacea, Astragalus, Nettle, Fenugreek, Rosehips, Ginger and Yarrow. 100% natural, dried herbs. No powders, no additives, no synthetic chemicals, no man-made compounds. Just pure natural goodness from the field.
If your horse is currently experiencing lymphangitis, you should notice things start to settle in about a week.  Lymph Assist is NOT a replacement for veterinary care. Consult your vet if necessary
We do provide samples of Lymph Assist. These are palatability samples of 30grams (1 day's feeding rate at maintenance) so that if you have a fussy horse, you can be sure they're happy to eat the product (it is very palatable!) before buying a whole box. The product needs to be fed for around 2 weeks for the full benefits to be seen, so please note that you will not notice improvements from feeding the sample. Samples are £2.50 and available on the product page (above). 
When being fed at the maintenance rate. a 1kg box lasts one horse 30 days and one pony 60 days. A 3kg box at maintenance feeding rate will last one horse 90 days and one pony 180 days. 
Every box comes with its own handy measuring scoop to help you get the perfect amount every time. One scoop holds 40g of the Lymph Assist herb blend. Horse - 30 to 50 grams per day. Pony - 15 to 30 grams per day