Revive 'n' Shine
BEST SKIN AND COAT SUPPLEMENT FOR HORSES
Revive 'n' Shine is a 100% natural herbal blend formulated to soothe and comfort itching skin. 
Resolves bald patches and dull coat 

For Dry and Itchy Skin 
Puts an end to rubbed manes and tails 
Shop confidently with our money back guarantee. 
Revive 'n' Shine can be fed all year to promote a glossy coat with richer colours, clearer dappling and a thicker mane.  
❗️SCOOPS❗️ -  Recyclable cardboard scoop enclosed. 
Regular price

Sale price

£54.99

Unit price

per
Save 10% on 1.5kg - £1.09 per day
Shipping

We're proud to offer free UK wide shipping on all orders.

Order before 1pm for same day dispatch.

All shipping is on a tracked, 2-day service.

Returns accepted on all unopened product within 7 days of receipt.
Fast Facts

You should see improvements in your horse within 3 weeks of feeding Revive 'N' Shine at the recommended daily feeding rate.

Revive 'N' Shine is suitable and safe for horses with or prone to laminitis, EMS, cushings or other metabolic disturbances.

Revive 'N' Shine is not suitable to feed to mares in foal.
Ingredients

Revive 'n' Shine is 100% natural.

Composition: marshmallow root, rosehip, garlic, clivers, dandelion, celery seeds and nettle. 
Feeding Instructions

Instructions for use: just sprinkle on top of your horse's feed daily.

Every box comes with it's own handy measuring scoop for the perfect amount every time.

Daily feeding rates:

Pony 15-30g per day

Horse 30-50g per day

How long a box lasts (based on maintenance feeding rate):

Starter pack = one horse 3 weeks, one pony 6 weeks

1.5KG = one horse 6 weeks and one pony 3 months

4.5 KG = one horse 4.5 months and one pony 9 months.
Share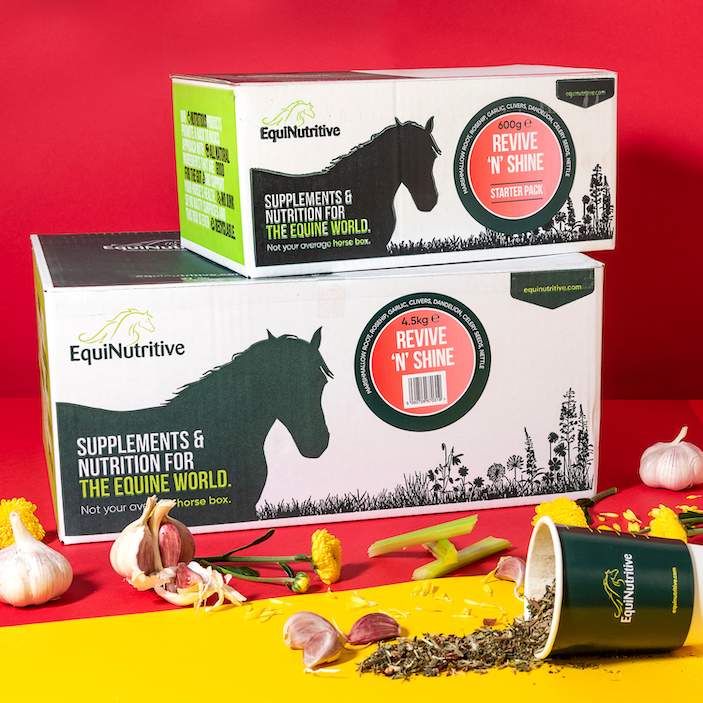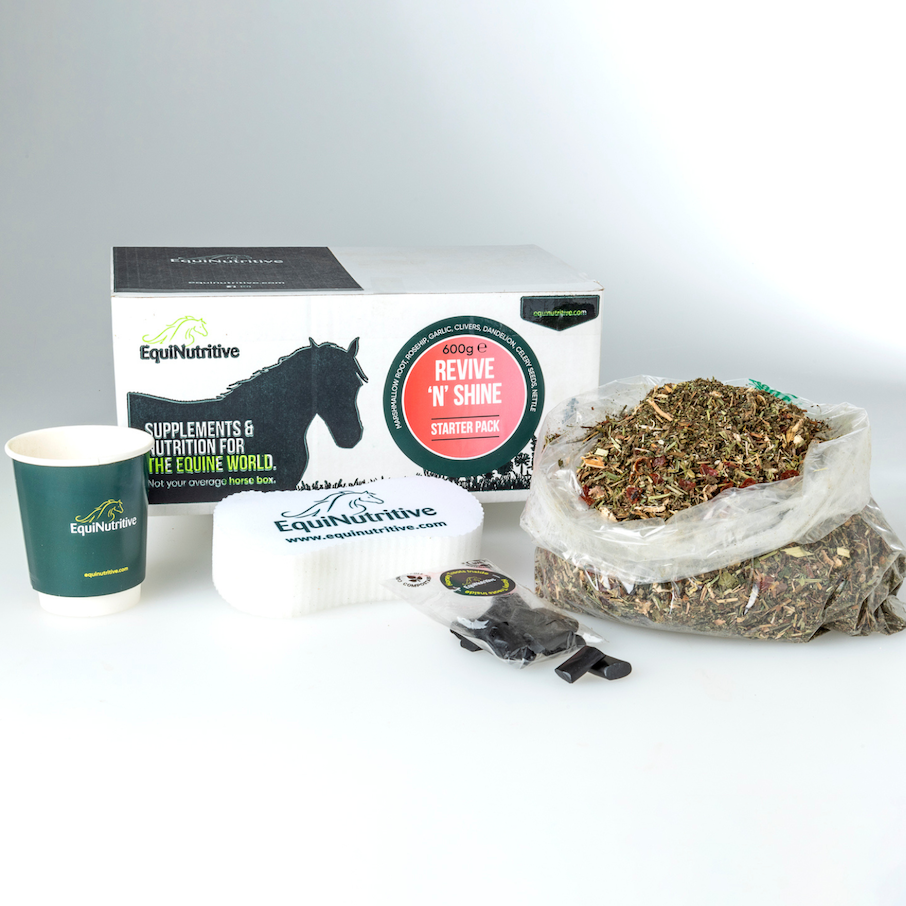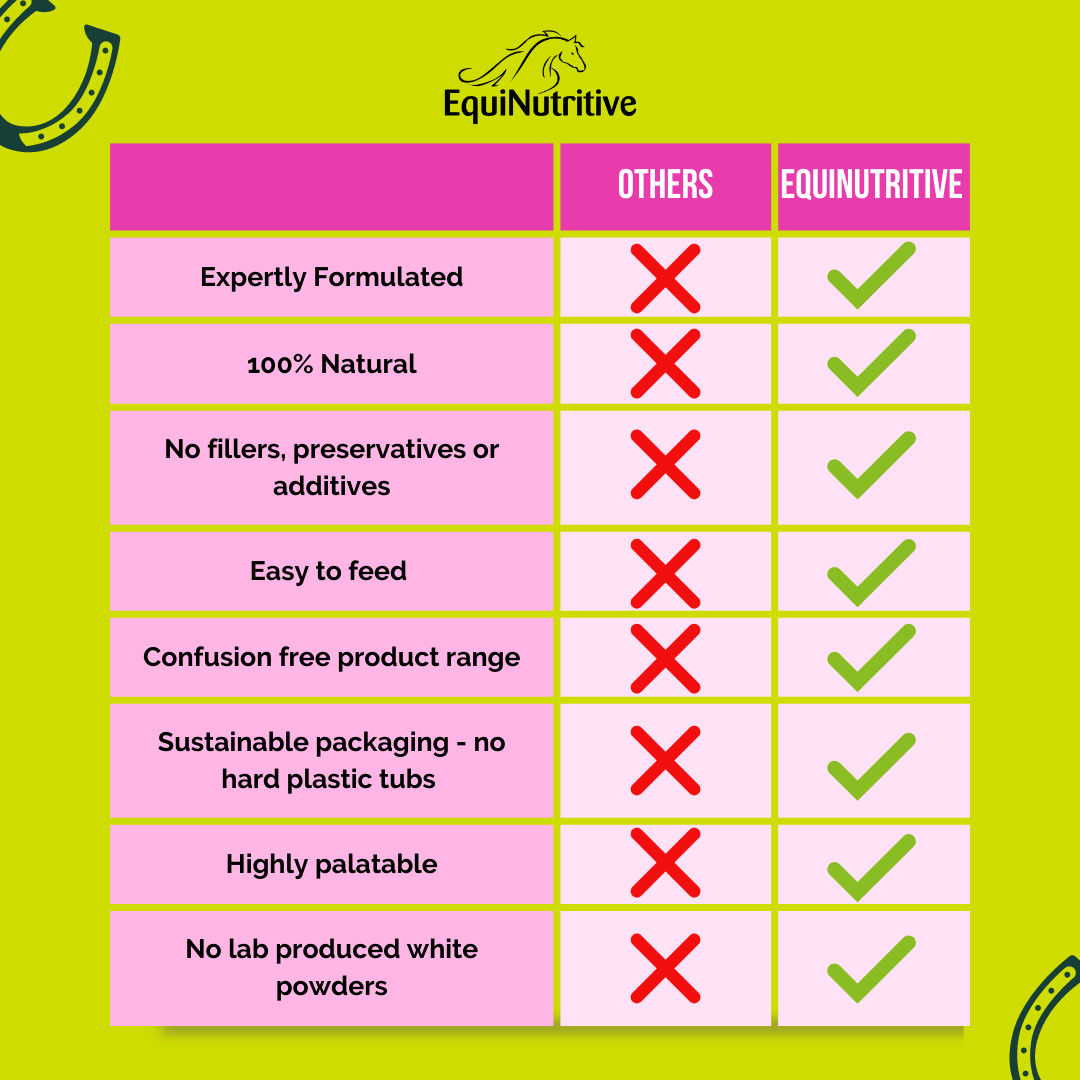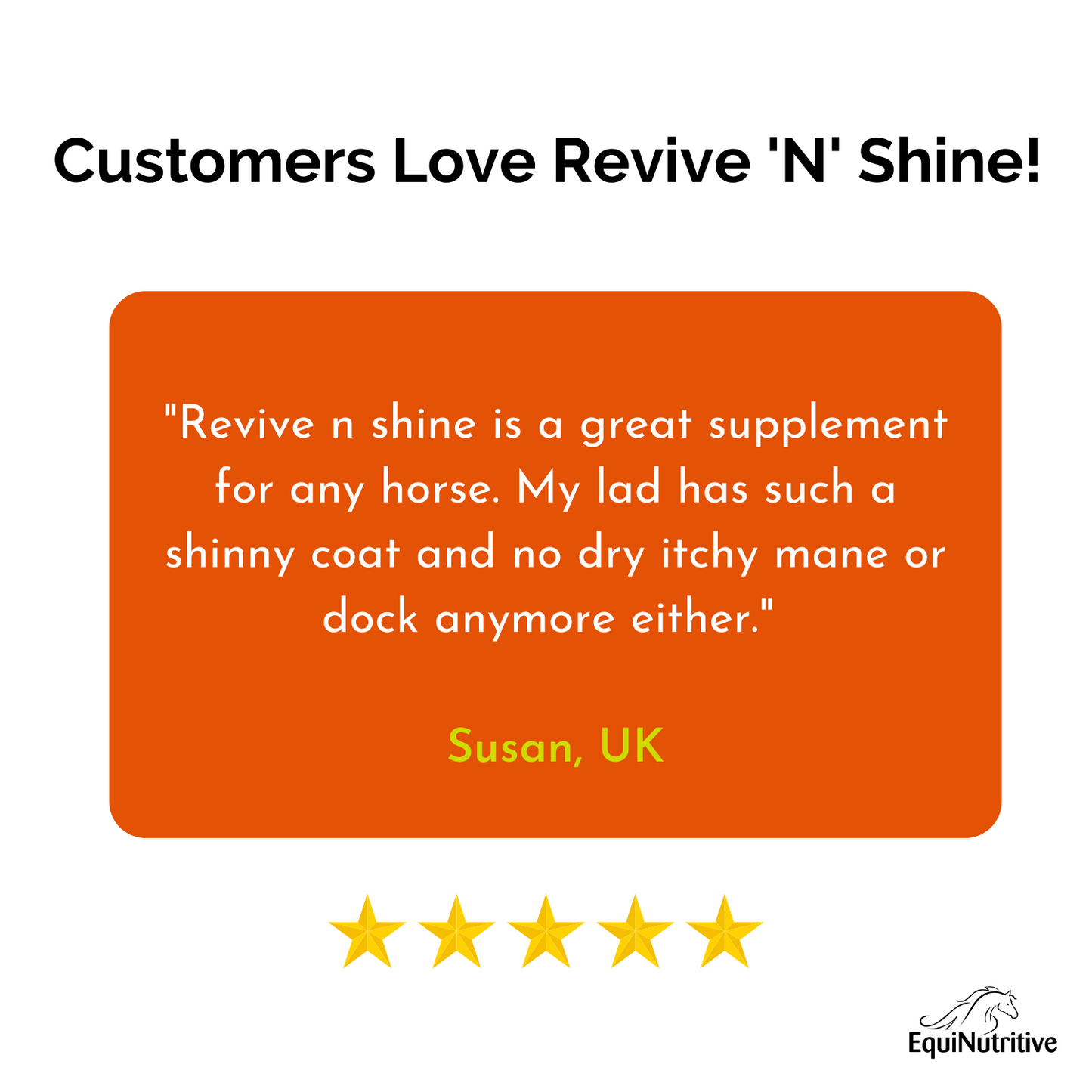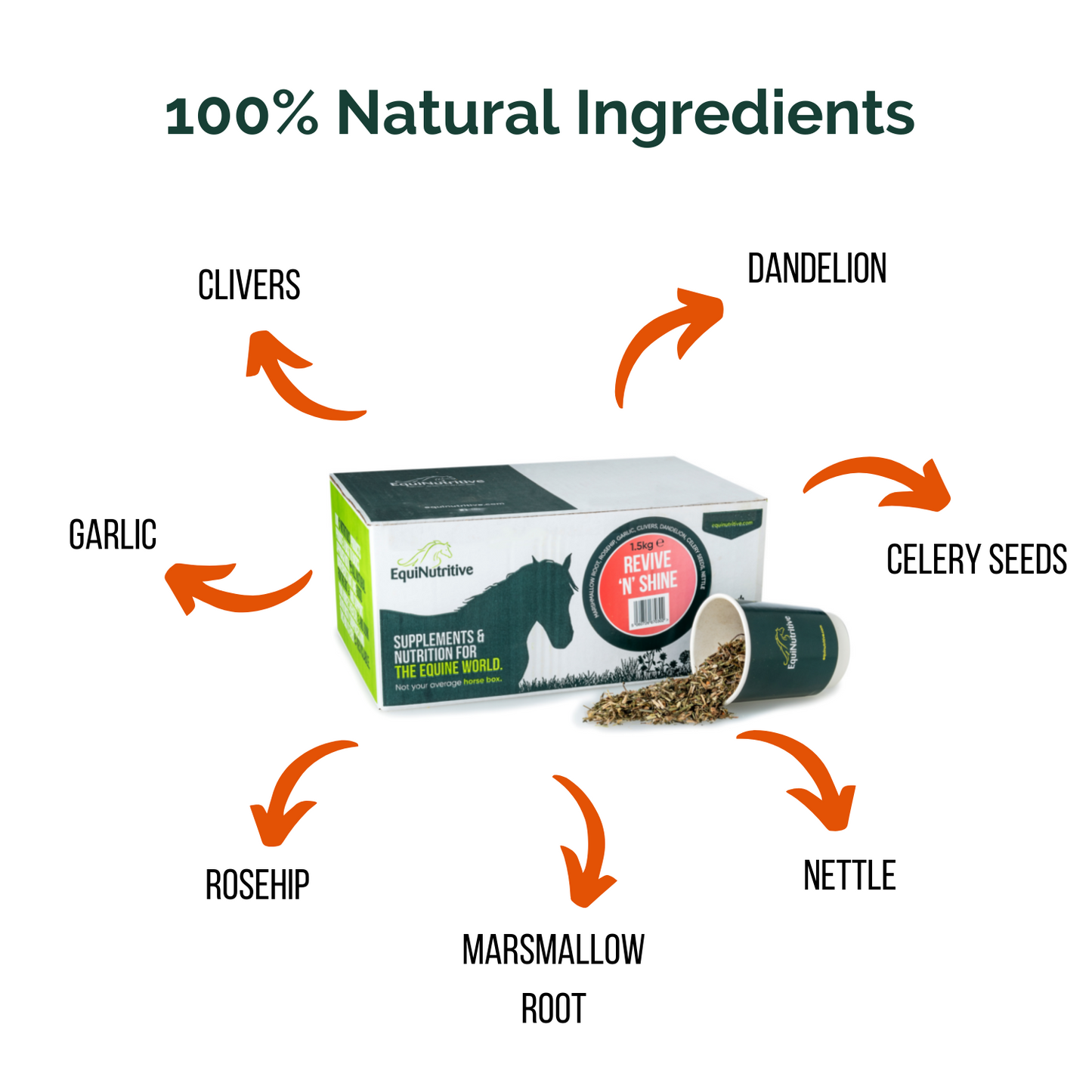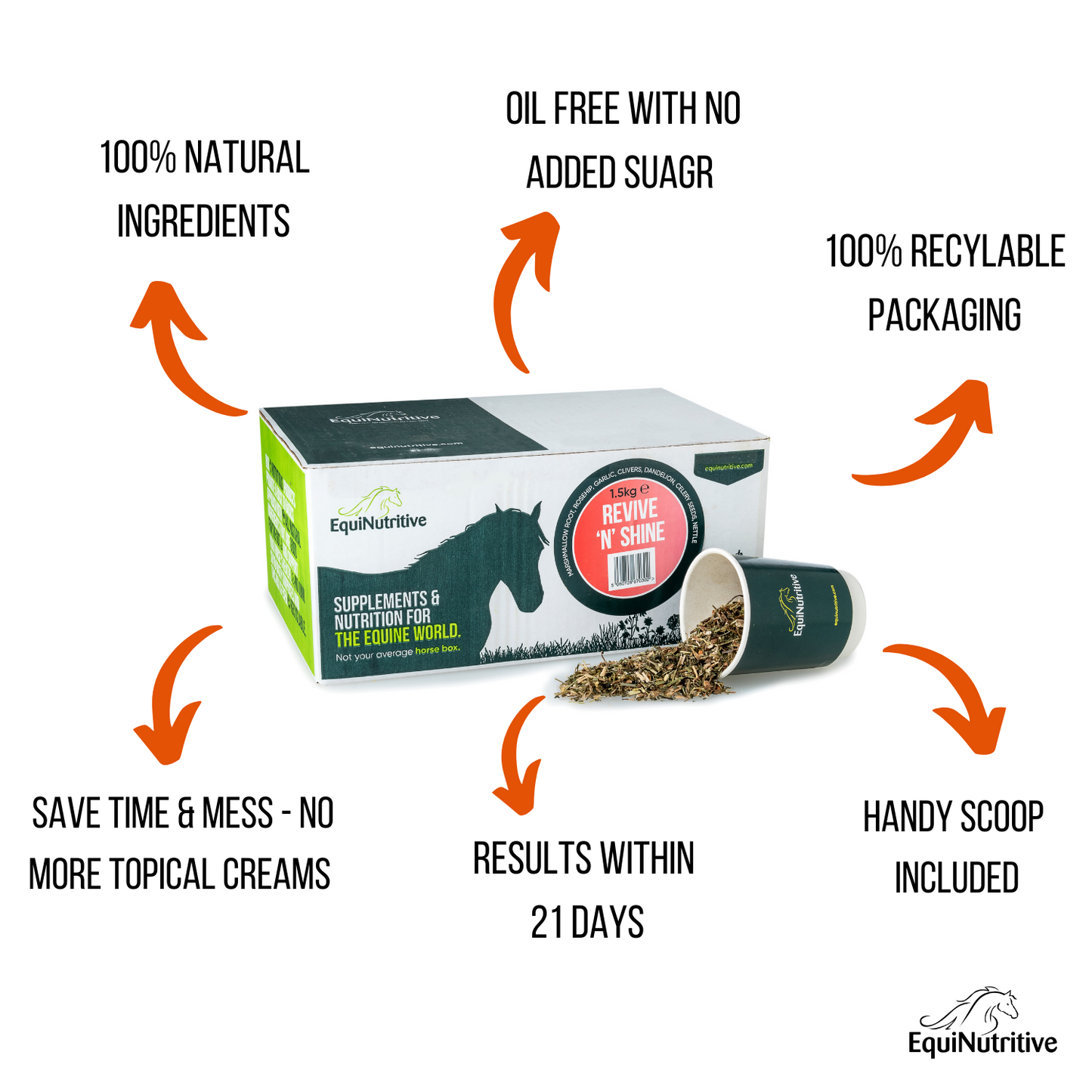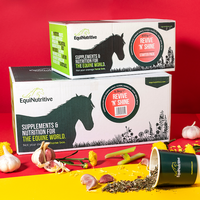 Revive 'n' Shine
Regular price

Sale price

£54.99

Unit price

per
WHY BUY REVIVE 'N' SHINE?
OIL FREE
Many skin supplements include oils. However, high fat content may lead to excess energy and weight gain. That's why Revive 'N' Shine is oil free.
No added sugar
Other skin products have added molasses which can lead to problems, such as laminitis, metabolic issues and excess energy. That's why Revive 'N' Shine has no added sugar.
No Mess, Save TIMe
Topical skin solutions are messy and take time to apply. Many have ingredients you'd never feed to your horse but they could ingest from licking the cream. Revive 'N' Shine is quick and easy to feed with no mess or risk to your horse.